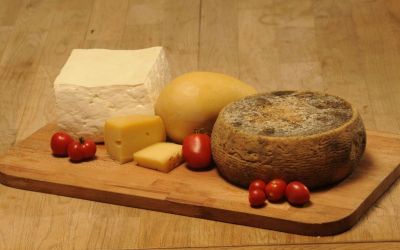 ---
Day 1 - Wednesday 06.12.2017

Arrival in Bucharest and free time (optional tours can be added depending on your arrival time)
Accommodation in a 3* hotel.
Day 2 - Thursday 07.12.2017

08:00 Departure from the hotel
Tasting of 3 types of sparkling wines in a cellar built in 1892. (additional cost)
Then we head to a farm where we will have a cheese tasting, lunch and a visit to the farm.
For lunch, all of the raw material used for cooking comes from the farm, with food based on local recipes. It includes soup + dish + dessert + water + coffee.
In case of difficulty to go to the farm because of bad weather, you can visit another organic farm and eat in Brasov, a medieval town (with an additional cost of 20 €)
Then, accomodation in a guest house and dinner (a main course, dessert, water and coffee).
Day 3 - Friday 08.12.2017
09:00 Departure to one of the fortified churches in a nearby village (additional cost)
After visiting the church, we will take a little tour of the village, then we will go to have lunch in another village. A surprise will wait for you after lunch.
After that, it's time to participate in a craftsman's workshop where you will learn how to work with wood.
We will have dinner at 19:30. Dinner will include a main course, dessert, water and coffee.
Day 4 - Saturday 09.12.2017
08:30 Departure to Sighisoara with a tour of the city to learn the history of this medieval city and stop in the historical center of the city.
Then we go to Saschiz where we visit the fortified church, the main refuge of the villagers.
We have lunch in one of the houses of the village. Again, we will have a full menu with 3 courses, coffee and water and alcohol from local production.
After that, we head to Bucharest, arriving between 20:00 and 21:00.
Day 5 - Sunday 10.12.2017

Breakfast and departure
If time permits, we can offer optional tours.