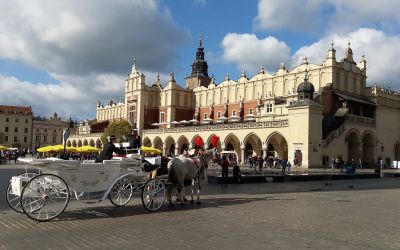 ---
Arrival of the group at Krakow airport. Welcome by your guide and transfer to the city center. Guided tour of the Old Town of Krakow (Unesco, 1978), formerly bounded by ramparts, destroyed in the 19th century and replaced by a green belt of parks, called "Planty". On the program (among others), the Royal Castle of Wawel, seat of the Polish kings until 1609, the Cathedral of Wawel, place of coronation and burial of the Polish kings, the Collegium Maius, historical building of the Jagiellonian University, one of the most prestigious European universities, the Market Square (Rynek Glówny), the largest medieval square in Europe, the Notre-Dame Basilica (entrance included), famous for its wooden altarpiece carved by Wit Stwosz in the 15th century.
Installation at the 4 * hotel in Krakow. Lunch and dinner free.
Breakfast.
Free time to discover the city.
Lunch and dinner free.
Breakfast.
Free lunch. Road to Oswiecim (65 km).
15:00 Guided tour of the Auschwitz - Birkenau Museum (Unesco, 1979) (entry included), commemorative place on the site of the former Nazi concentration and extermination camps Auschwitz I and Auschwitz II - Birkenau (1940-1945).
Return to Krakow (65 km).
Free dinner
Day 4
Breakfast.
12:00 Check-out / Baggage deposit.
Free lunch.
Transfer from the hotel to Krakow Airport.
Return to France