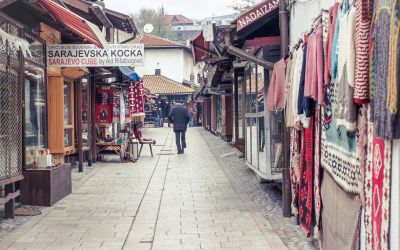 3 nights stay in Sarajevo
---
Enjoy a short stay in Sarajevo, a lively and historic city with traces of the recent 1992-1995 war between the Serbian, the Croatians and the Bosnian. After this terrible war the lively, diverse, tradition-rich city was almost completely rebuilt.
With accommodation in a traditional hotel (upon availability), you can discover this beautiful city surrounding you with all the modern and traditional heritage of Sarajevo. There will be free time to visit the wonderful attractions such as the Tunnel museum (the only salvage lines during the war), The Cathedral Church of the Theotokos Nativity, one of the largest Serbian-Orthodox cathedrals of the Balkan countries, or the Vrelo Bosne Natural monument.
Sarajevo lets you sample the past. Artisans in the oriental trade square Bascarsija still forge copper and brass and create filigree art. Enjoy the smell of their famous charcoal-grill cevapcici. Taste delicious oriental sweets in Slatko cose and relax in some of the serene outdoor cafe, with a coffee prepared in the traditional Bosnian way.
Sarajevo is a cultural capital with its Sarajevo Winter in February, Bascarsija-Nights in July, International Folklore Festival, also in July, Sarajevo Film Festival in August, Sarajevo Oriental Music Festival in September, MESS Theatre Festival in October and its November Jazz Festival.