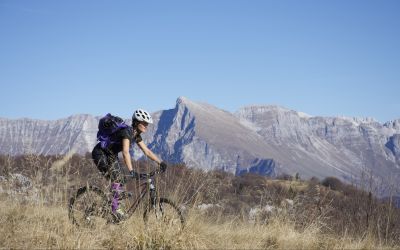 Active Slovenia!
---
SLOVENIA is active in nature and soul. An amazing variety of active experiences is provided to all who love to be in contact with nature. There are more than 10,000 kilometers of marked hiking trails in Slovenia and 14 areas for cycling that fulfill the criteria for standard cycling destinations.
BOVEC
Bovec, a border town with Italy, is located in the Trenta Valley in the Julian Alps and is part of the Triglav National Park.
The unspoiled Triglav National Park, with its mountains, valleys and lakes, is the oldest protected natural area in the country. In the valley of the Soca, the emerald river, an exceptional place, enclosed by waterfalls, small falls, rapids and narrow gorges carved in the rock, you will be able to live, in the nature, extraordinary experiences that will leave you unforgettable memories.
PROGRAM
Day 1: Arrival and check-in
Day 2: Rafting (1.5 hour)
Day 3: Kayaking (1.5 hour)
Day 4: Canyoning (between 3 and 4 hours)
Day 5: Mountain biking (4 hours)
Day 6: Caving in Srnica cave
Day 7: Zip lining
Day 8: Check-out
NOTE: all the activities will take place in the morning
EXPLORE BOVEC
After a sporty morning, let yourself be tempted by the magnificent Boka and Virje waterfalls. If you are curious, open-air museums Kolovra and Ravelnik are for you. Of course, you the party-goer, we do not forget you! The bars and clubs of Bovec will welcome you.
How to reach Bovec:
By Car
Bovec – Ljubljana 135 km
Bovec – Bled 90 km
Bovec – Kranjska Gora 45 km
Bovec – Nova Gorica 75 km
Bovec – Udine 65 km
By Airplane
The closest Airports:
- Ljubljana Airport 110 km from Bovec
- Klagenfurt Airport 100 km from Bovec
- Triest Airport 90 km from Bovec
For more details, don't hesitate to contact us: contact@est-evasion.com